Anyone who uses power tools or guns on a regular basis is putting their hearing at risk through two very different avenues.
---
I-POD, Mp3 Earplugs
Delivers clear sound, ultimate comfort & convenience
Can attach directly to your existing headphones for a perfect fit
Ideal Earplud for Mp4, iPod, Mobile Phone, Computers or any audio equipment.
---
MUSICIAN Earplugs
It decreases sounds across all frequencies, making music more clear & natural sounding
Suitable for all the musicians – vocalists, keyboard players, guitarists & drummers
It will provide you with at lower volume while performing
Available in different designs that will not be visible to your audience
Musicians Ear Plugs are available in three SNR/NRR ratings i.e. 17dB, 19dB, 26dB
---
High Frequency Noise filter

The Hocks Noise Braker® is an acoustic filter that adjusts all incoming sound to appropriate speech levels. While most hearing protection seals off the ear, effectively blocking any sound from entering, this high frequency noise filter lets air and sound through in a safe, effective way.
As a result, the wearer can communicate freely and remain aware of the surrounding environment.
Also called as the hocks noise brakers
This block high frequency noise & lets air & other sounds pass through the molds in an effective way. The user can communicate freely & remain aware of the surrounding environment
Suitable for noisy industrial environments.
---
Solid Earplugs

Custom fit solid earplugs provide outstanding noise protection for a variety of recreational and occupational environments. The corded option allows wearers to place the plugs over their necks when they're not in use. Solid earplugs are also available with a removal "L" shaped handle.
Provide total noise protection
They can be used by anyone who is exposed to noise during recreational & occupational environments such as airplane travels, train travels, bus journey etc.
Both the earplugs are connected by a cord to help you place them around your neck when they aren't using them
---
Floatable Swimmer Earplugs
Custom-made waterproof swim plugs offer protection for those prone to ear infections or other ear problems. Made of soft hydrophobic silicone material for maximum comfort, the plugs float so you won't lose them in the water. Swim plugs come in a variety of solid, swirled and neon colors.
They are waterproof swim plugs offer protection for ears prone to ear infections or other ear problems
They are made up of soft, floatable material so that you don't lose them while swimming
Available in variety of colors & patterns and are suitable for all ages & abilities.
---
Sleeping Earplugs

The sleeping earplug is available in different styles including completely-in-the-canal (CIC) and in-the-canal (ITC). It also includes a pull string for easy removal.
Provides comfortable sleep with effortless diffusing background noise
Available in different styles including completely-in-the-canal (CIC) & in-the-canal (ITC)
Includes a pulling string for easy removal
Helps for a peaceful, quite sleep if someone is snoring around you or for afternoon naps.
---
ACS Pro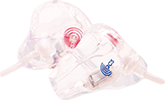 These custom earplugs are specially designed for those who enjoy loud activities and want to hear everything clearly but don't want to damage their hearing. Concertgoers, music fans, and musicians themselves will get the most out of these earplugs, as the filters and vented design give you the most accurate sound experience of any hearing protector, with a flat decibel reduction across all frequencies. This means you'll hear clearly every note, high or low, and you'll be able to speak without the "plugged-up" feeling that is common when the ear canal is obstructed.
These natural-sounding earplugs are custom-fit to the unique contours of your ear, so they fit snugly for hours of comfortable, continual use. Decibel filters range from 10 to 27 decibels (dB) of noise protection.
---
DefendEar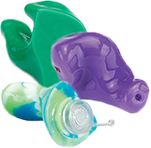 The DefendEar is a series of hunting protection devices that digitally protect the ear from the blast of gunshots — sounds powerful enough to damage your hearing instantly. When shots are not being fired, the DefendEar amplifies some tones for added situational awareness in the field. DefendEar is custom-molded and hand-finished to specifically fit your ears.
DefendEar digital hearing protection products offer a number of benefits that standard earplugs don't, like noise attenuation when you pull the trigger, as well as wind reduction. DefendEar has plugs that are optimized for intermittent or continual shots, and the series offers selectable amplification levels to adjust to environmental sounds easier.
---
SoundGear

SoundGear creates digital hearing protection for hunters and shooters, police and military, and industrial workers. SoundGear earplugs instantly dampen noise levels that exceed 95 dB, making them useful for a variety of situations in which communication would be difficult with use of standard earplugs.
Anyone who uses power tools or guns on a regular basis is putting their hearing at risk through two very different avenues. Manufacturing- and industry-related hearing loss tends to occur over a long period of time, because many work zones feature loud noises that are consistently above 85 dB (the point at which loud noise begins to damage hearing). Firearms typically sound off at 140 dB or more, which is enough to cause pain and instantaneous hearing damage.
SoundGear is convenient to carry and comfortable to wear, and it protects hearing from the most dangerous noises while enhancing communication at lower volume levels.